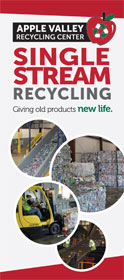 Single-stream recycling refers to a process in which all paper fibers, plastic, metals and other containers are all mixed in a collection truck. Typically, residents have to sort their waste into separate commodities, which have to be handled separately throughout the collection process. Single-stream recycling benefits both the depositor and the waste management team, saving them time and energy.
At Apple Valley Recycling Center, both our recycling collection and processing systems are designed to handle the commingled mixture of recyclables. Our materials recovery facility (MRF) is equipped with state-of-the-art machines, and a hardworking team, that work together to separate your materials and get them ready for reuse.

Single-stream recycling programs were developed in the 1990s and since then many large and small municipalities across the country have adapted single-stream programs in their communities. As of 2019 there are over 350 MRFs nationwide.

---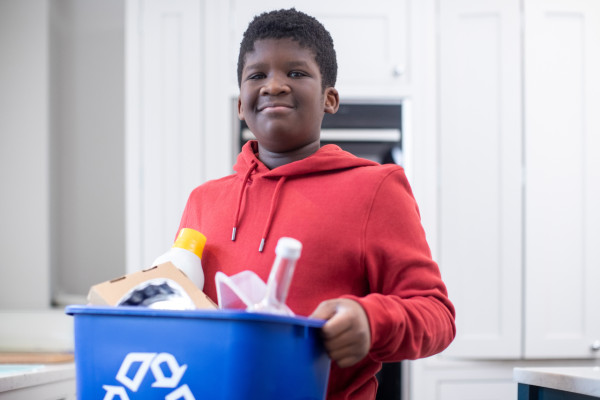 Advantages
Reduced sorting efforts make it easy for consumers to participate in recycling programs which leads to less waste and more recyclables placed at the curb.

Can reduce recycling collection costs because collection routes are more efficient, collection can be automated, and single compartment vehicles are cheaper to purchase and operate.

Since there isn't multiple recycling routes, time and money is saved by requiring less fleet vehicles.

Fleet vehicles can be used for waste or recycling collection. You may recognize our Apple Valley Waste vehicles picking up your recycling, but rest assured it is being taken to Apple Valley Recycling Center and not to a landfill.
---
Thanks to the hard work of our employees and the dedication of our patrons, Apple Valley Recycling Center has the ability to make huge environmental impacts that will have lasting positive impacts on our planet.
---
Apple Valley Recycling Center's environmental impact in 2020

| | | |
| --- | --- | --- |
| Trees Saved | 111,158 trees | Over 304 trees per day for an entire year. |
| Energy Saved | 26,594.394 kWh | Enough energy to power 200 households for an entire year |
| Drums of oil Saved | 75,108 | Enough gasoline to drive 200 medium sized cars over 105,000 miles |
| Landfill Diversion Space | 236,483 (Cubic Yards) | Over 3,040 Dump Trucks |